Power Measurements
Update: New power measurements have been performed for the recent increase in core voltage (VCCINT). All new X6500s shipped after 3/28/2012 will have VCCINT = 1.23V.
These tests were performed with an X6500 rev3, equipped with Zalman ZM-NBF47 heatsinks. Airflow was provided with an 80 mm fan at the side. The power consumption of the fan was not included in the measurement. Note that power consumption will vary slightly from board to board.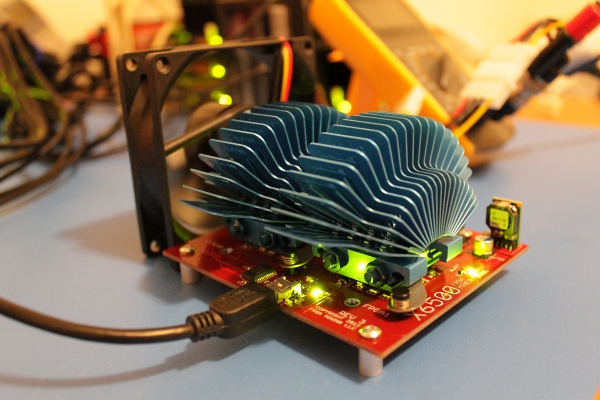 Current and voltage were measured directly at the board, for a variety of firmware builds and clock rates. Power consumption is shown for both the new core voltage (1.23V) and the old (1.20V). The results are summarized in the following tables.
1.20V:


1.23V:


The peak performance efficiency happens to be at the highest performance, 17.2 W at 400 MH/s, or 23.3 MH/J.