X6500 Rev 3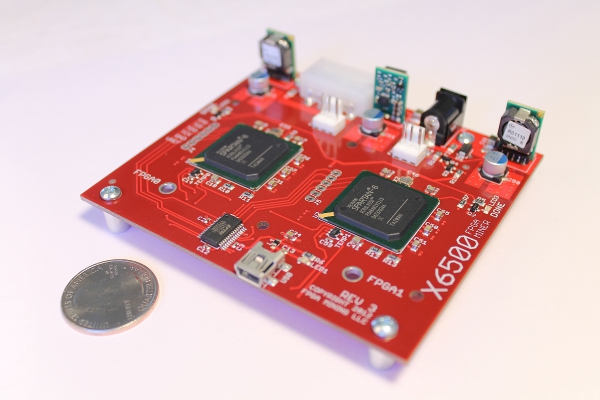 The latest and greatest X6500 is the 3rd revision. Like revision 2, rev. 3 consists of 2 Spartan-6 LX150-3FGG484C FPGAs and a USB interface. A few important features have been added, including:
Independent temperature monitoring for each FPGA.
Heatsink mounting holes, compatible with many heatsinks designed for the Northbridge chipset.
Additional clearance to allow for larger heatsinks.
3-pin headers to power 2 standard 12V fans.
Draws from the 12V supply at the Molex connector.
LEDs to indicate that the FPGAs are configured properly.
Mounting hole size diameter increased to allow for #6 size screws.
98 x 85.5 mm (3.86 x 3.37 inch) overall size
Features retained from rev 2:
Dual Spartan-6 LX150-3FGG484C FPGAs.
USB interface for configuration and mining communication.
Power supplied through a 4-pin Molex connector or a 5.5 x 2.1 mm barrel connector (wall wart style).
350 MH/s guaranteed, 400 MH/s typical.
17.2 W at 400 MH/s (more measurements here).
Independent protection fuses on each power connector.
JTAG available for development and debugging (headers are not populated by default).